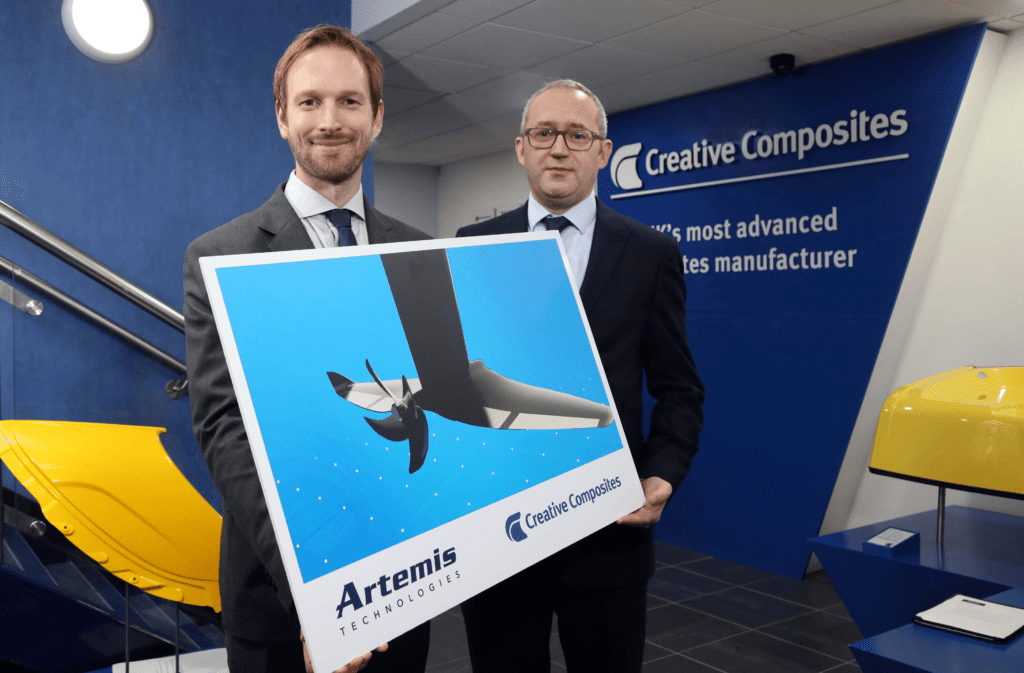 Creative Composites, the UK's most advanced composites manufacturer, has announced a partnership with Artemis Technologies, to make component parts for the world's first zero-emission workboat.
Northern Ireland based Creative Composites, known for their ability to supply high quality complex parts for some of the world's most demanding global brands in the automotive, truck, materials handling and medical sectors will now collaborate with Artemis Technologies – the world's leading high-performance maritime design and applied technologies company, to create components for its revolutionary new electric eFoiler Propulsion System (eFoiler).
The system forms part of Artemis Technologies' plan to lead the decarbonisation of the maritime industry. Creative Composites will manufacture a range of component parts for the eFoiler including appendage control surfaces and hydrodynamic fairings.
Jonathan Holmes, Managing Director, Creative Composites said:
"It is incredibly exciting to partner with Artemis Technologies on such an innovative project that will not only contribute to the next wave of development in the maritime sector but will also make a huge impact on global efforts to combat climate change.
"Our unique approach offering a combination of cutting-edge in-house design, world class manufacturing and flexible service, enables us to collaborate with clients to deliver complex compression moulded components for a diverse range of sectors world-wide."
As part of the collaboration, staff from Artemis Technologies will be based at Creative Composites to work alongside the team. They will benefit from knowledge sharing and value engineering offered by Creative Composite's in-house specialist designers and engineers, helping to build new skills in the maritime sector.
David Tyler, Commercial Director, Artemis Technologies added:
"This is an important collaboration that marks a major milestone on our journey to help the maritime sector reduce carbon emissions by developing new green technologies that will power the vessels of the future.
"With a commitment by the UK government that all new maritime vessels must be fitted with zero-emissions technology by 2025, solutions such as our eFoiler system will play a key role in realising that goal.
"Using truly transformative and complex technology, the eFoiler will reduce the drag of modern fast vessels by up to 90%, making electric propulsion at high-speed and range commercially viable for the first time.
"With extensive experience making composite structures for the automotive industry and a commitment to advanced manufacturing, Creative Composites is the perfect partner for Artemis Technologies and will form part of the growing maritime cluster in Northern Ireland."
"The collaboration forms part of Artemis Technologies' wider plans to lead the decarbonisation of maritime transport – and Northern Ireland will be at the forefront of these exciting developments."
Artemis Technologies, a sister company to the Artemis Racing professional sailing team is the lead partner in a Belfast consortium bidding to return shipbuilding to the city.